I first met Woody Keen back in High School. The year was 1976 and we were students at Myers Park High in Charlotte, NC. His nickname came from Woodsy the Owl, a cartoon owl that admonished TV viewers to "Give a hoot and don't pollute." Woody was similarly environmentally responsible and would go so far as to pick up cigarette butts and return them to their previous masters, reminding them that trash should be properly discarded and not thrown out for everyone else to step on.  We became friends through our mutual friend Weasel, who I met while doing the school musical the end of our sophomore year. I was the last to make our gang of five, joining Road Hog and Bubba, to become friends for life.
Woody was already an avid climber with his own rope and rack at the young age of 17. He worked for a local outdoor shop and used their sewing machine to make climbing belts, leg loops and gear slings. Woody's father worked for a large textile company, so he had access to textiles and test equipment. I was 16, and had limited experience top-rope climbing at camp and though the local YMCA outdoor program.
Woody and Goose, Lake Burton, GA 1986
One weekend we decided to go climbing, so Woody drove us up to Table Rock, northwest of  Charlotte just above Morganton. It was a beautiful late Spring day, the Rhododendron and Mountain Laurel in bloom. We spent the day climbing, meandering our way up through "Jim Dandy" and then "My Route" to the top of the mountain. It was my first day of "real" climbing, and it changed me in ways I couldn't even begin to imagine then. I remember one "steep" section of My Route (5.7) made me work hard and finally I screamed to Woody that I was FALLING and then sagged against the rope. He talked me through that steep section, primarily by reminding me about the things on the ends of my legs called feet, and how it might help if I tried to use them, as opposed to doing pull-ups the whole way. I remember being physically spent and emotionally exhilarated at the same time. The following Monday at school,  I wore a tied hex around my neck like a prize jewel, still euphoric from the mind blowing climbing of the previous day.
Years later, we had gone our separate paths. Woody to the mountains and  Appalachian State, me to UNC Chapel Hill and then Wake Forest for grad school.  After App State, Woody stayed in the area and became head climbing instructor at the NC Outward Bound School based at Table Rock. He married Jo Jo, and they bought a house in the Misty Mountain neighborhood outside of Blowing Rock. While working at NCOBS, Woody designed the Fudge harness, an adjustable "Swiss-seat" style harness with buckles instead of knots. One of the first true "one size fits most" harnesses, the Fudge became popular first with Outward Bound, and then with other camps and climbing schools. Woody began sewing them at night in his garage, building them for his growing group of new customers. In 1985, Woody began Misty Mountain Threadworks, designing and sewing fashionable and comfortable swami belts, leg loops, harnesses and slings. One of his first employees was Mike Grimm, a young climber and student in  App State's industrial technology program.  Woody and I stayed in touch and occasionally myself and friends would trek to the mountains for a wood-chopping party to replenish their firewood supply, climb, hike and stuff our bellies with Jo Jo's savory cooking.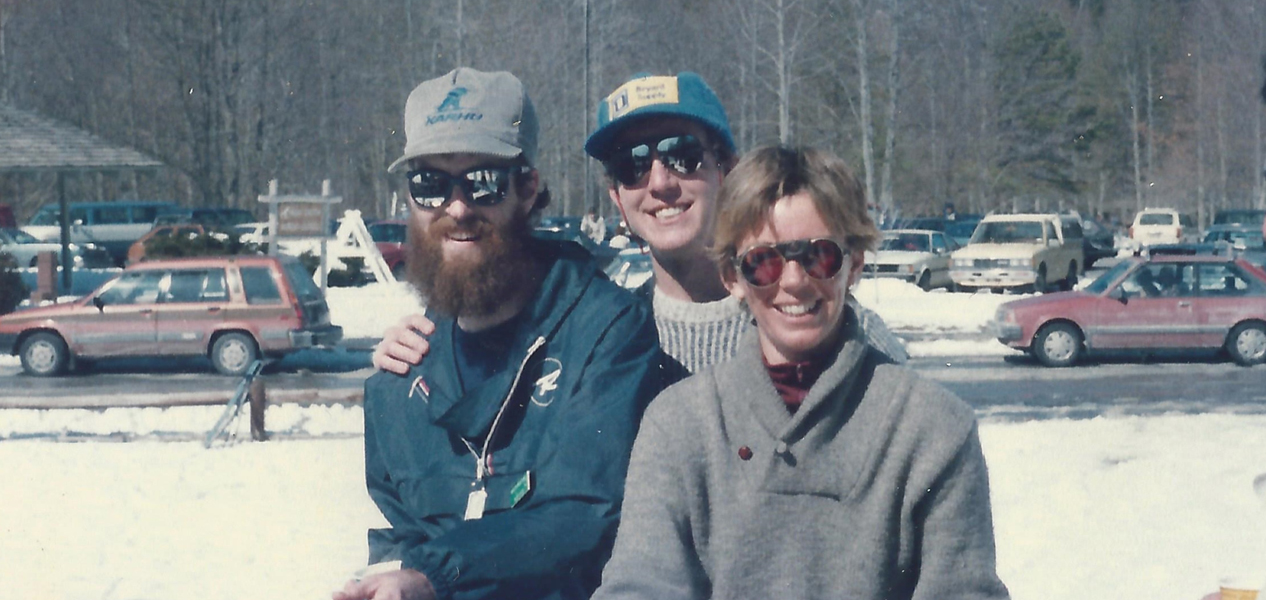 Woody, Goose and Jo Jo, Roan Mountain, TN 1986
In 1989 I joined Woody at Misty Mountain, buying out Burton Moomaw, a friend of Woody's from NCOBS that had joined him as a partner a few years prior. The company has been in the same backwoods location in Valle Crucis since 1990, occupying a 7,000 square foot manufacturing facility. Together Woody and I ran the company until Mike Grimm purchased Woody's shares in 1997 to become an owner. In 2015 I bought out Mike to become sole owner of Misty Mountain. In the same year, we expanded operations opening a satellite operation in nearby Boone.
Misty Mountain is a "cut and sew" operation, meaning we purchase component materials like webbing, fabric, foam, and hardware, and then cut the parts and sew them together to make our products. Misty Mountain is comprised primarily of climbers and local craftspeople joining forces to design and produce some of the finest climbing harnesses in the world. Our factory has a testing laboratory for testing designs and breaking prototypes to better understand the strength of our component materials, products, and designs.
Misty Mountain began by producing program and recreational harnesses and climbing gear. Many of the designs were characterized by wild patterns and fun elements like fringe or faux animal fur. Inherent in all of the designs were fundamentals like strength, comfort and durability. Climbers appreciated the designs and more and more Misty Mountain harnesses and gear began appearing first in the East and then further West as reputation and sales grew. As bouldering grew in popularity, boulder pads became part of the Misty Mountain product line. Continued product improvements in harnesses led to closed cell foam padding, contour cut designs for ergonomic fit, and quick adjust buckles. In 2009, Misty Mountain began designing and producing harnesses and tethers for the military, opening a whole new product category.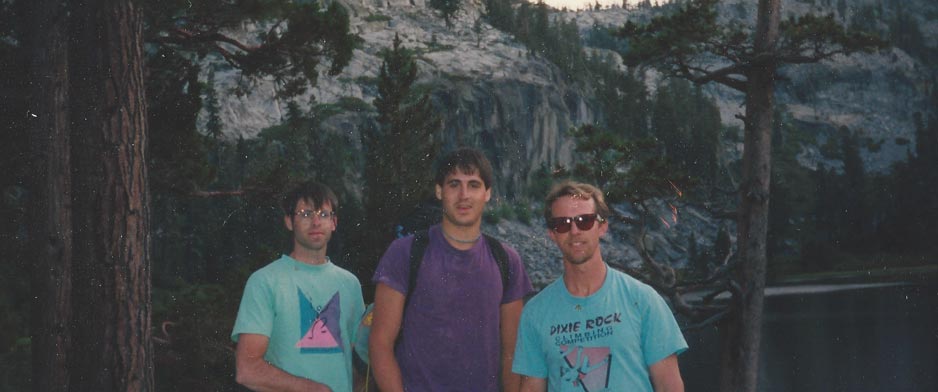 Mike Grimm, Jimi Combs & Goose near Lake Tahoe, CA 1992
A key truth that influences Misty Mountain's success is that we firmly believe that the world would be a better place if everyone went climbing. Climbing is good on so many levels – physical, mental, emotional, social and spiritual. Climbing can make the arrogant humble, the meek strong, and brings us together in a richness of experience that fortifies and strengthens ourselves and our relationships. A big part of our Program category is the adaptive harnesses designed to allow people using wheelchairs to experience climbing. It brings us a great deal of satisfaction to help everyone have an opportunity to try climbing.
Another fundamental tenant of Misty Mountain is that all Misty Mountain labeled products  are made in the USA. We are committed to our American employees, and we believe part of what makes Misty Mountain gear special is that it is made here, in the United States, under the direct supervision of the company owners. The region we enjoy calling home used to have many textile companies employing  thousands of workers. Now those jobs are mainly gone, as  these products and jobs have been "off-shored", taken to lower labor cost countries. We think a healthy economy needs manufacturing jobs, and we believe that the extra cost of manufacturing in the US is more than made up for by the increased quality and productivity we gain from our local employees.
A third and very important component of who we are, is that Misty Mountain is based in the Appalachian Mountains, the oldest mountain range in the world. Our backyard is a playground, with incredible adventure climbing in the Linville Gorge, phenomenal bouldering resources, and crags like Ship Rock on Grandfather Mountain. This inspires us to continue to climb and connect with our activites, products and our customers. We don't just climb, we mountain and road bike, hike and fish, ski and hunt. The variety of outdoor recreation is tremendous here in the Southern Appalachians, and it inspires us to be psyched to climb and to design better, more comfortable harnesses.
A few years ago, Mike and I went to Shortoff Mountain at the southern end of the Linville Gorge to climb. I wanted to do a classic route dubbed The Maginot Line. At 5.7 this wasn't about grade chasing. For me, I had tried to do the route on two separate occasions, and both times we got skunked. The first time I tried to climb Maginot was with Lynn Willis. We had gone in on a Saturday and climbed Dopey Duck (5.9), a must do route with a steep crux pitch and incredible position. That night as we camped atop the escarpment, clouds rolled in and we were blanketed in fog. The next day didn't look much better, but since it wasn't actively raining, we slid down the serious descent gulley to rope up for Maginot. Unfortunately, as the rope was uncoiled, the heavens opened up in a rain of biblical proportions. The Maginot Line quickly became a giant downspout and we were instantaneously soaked and had to bail back up the heinous descent gulley.

Tom Havelos, Cogie Reed, Mike Grimm, Goose Kearse and Jennifer Wilson, 1997, City of Rocks, ID
Years later  I went back to try and climb The Maginot Line again and was accompanied by my wife Jennifer, then a few  months pregnant with our son Evan. I got off route on the first pitch and managed to turn 5.7 into more like 5.9+. Jennifer, burdened with our baby and pack, was unable to follow through a steep, overhanging section, so once again I bailed and we skulked back up the descent gulley.
The third time was the charm for The Maginot Line. Mike and I arrived at the parking area at the end of Wolf Pit Rd mid morning, and made the 2 mile hike to the top of Shortoff in good time. We navigated the descent gulley without incident or injury, and then enjoyed some of the finest climbing I've ever experienced. There was slab, lay-backing, overhanging jugs, cracks, chimney moves, you name it. Sitting at the anchors, belaying Mike, I was struck by the sheer enormity of the stone and the amazing variety of the route. Looking down far below at the Linville River and the Gold Coast wall across from me I was spellbound.   Mike climbed smoothly as always, and we were off the route it seemed almost as soon as we had started. Walking out we had that feeling climbing gives you of being drained and fulfilled at the same time.
Nowadays I'm sharing these experiences with my children, and they are no longer children. These are the same experiences that fire Misty Mountain to produce the finest climbing harnesses and gear in the world. I hope you share these same experiences with your family and friends. Misty Mountain is a company, but we are also a family. Thanks for all your support and for being part of the tribe of climbers to which we all belong.
Goose Kearse
President